A lone Guardian Angel was seen on video standing up to multiple Black Lives Matter demonstrators who tried to bully him during their protest Monday of Carmine's restaurant in New York City — and at least one BLM protester yelled multiple anti-gay slurs, but the Guardian Angel wasn't about to let that slide, either.
What happened?
Video caught the moment when the lone Guardian Angel was accosted by a BLM demonstrator wearing a black ski mask who yelled "suck d**k!" in his ear.
"You don't like gay people?" the Guardian Angel replied to the BLM protester. Fox News said the Guardian Angel was identified as Joshua Penner.
San Francisco Mayor CAUGHT Violating Her Own Mask Mandate, Has PATHETIC Excuse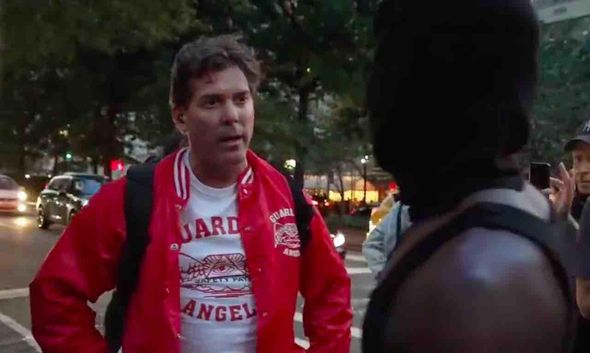 Image source: Twitter video screenshot via @ScooterCasterNY
The BLM protester replied, "I love gay people," and that his brother is gay — but the protester's homophobic language continued: "Suck d**k, bitch!"
Soon others in the crowd begin to move toward Penner and holler at him, but the Guardian Angel kept his cool — and didn't move an inch.

Don't miss out on content from Dave Rubin free of big tech censorship. Listen to The Rubin Report now.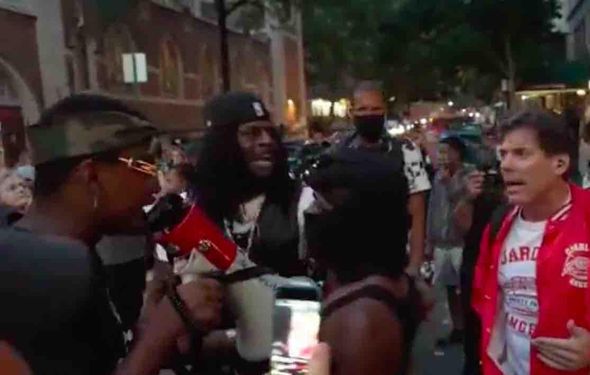 Image source: Twitter video screenshot via @ScooterCasterNY
In fact, at one point the BLM protesters — one of them on a bullhorn — ordered him to leave, but Penner refused and told the crowd, "I live here."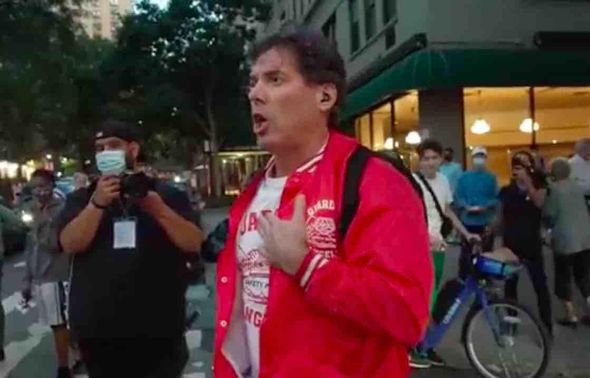 Image source: Twitter video screenshot via @ScooterCasterNY
Amazingly, the BLM protesters backed down and decided to be the ones to clear the area instead.
Here's the clip. Content warning: Language:

What did the leader of the Guardian Angels have to say?
"He withstood a lot of verbal abuse and physical threatening," Guardian Angels leader — and NYC Republican mayoral candidate — Curtis Sliwa said, according to Fox News, which cited WABC-AM. "He stood there and didn't get sucked into the cursing, finger-pointing, and harassment. All they do is sell wolf tickets in order to fall into their trap."
WABC also said Penner is the Guardian Angels' patrol lead from the Upper West Side, Fox News noted.
Of the protesters, Sliwa said "they were there to cause trouble — that's all they ever do is cause trouble," the cable network added.