Buskers performing on the street or in the subways are often passed by as people hurry to their next destination, but occasionally a street performer really makes us stop and listen. Such was the case of one mystery man who sat down to play piano, earning impressed looks from the people passing by.
No one could have guessed that the man, dressed in a winter coat with the hood pulled over his head obscuring his face, would do anything more than plunk away at the piano. He starts slowly with a classical tune that is beautiful, then he ramps up to a full boogie-woogie and blues jam that makes people stop and listen.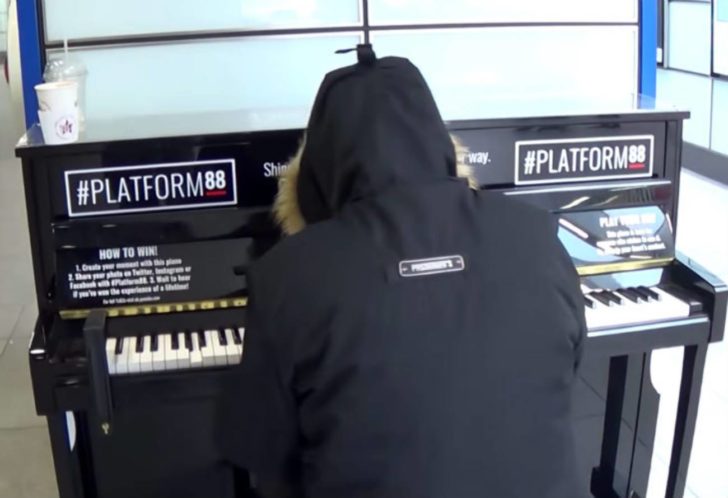 It's not easy to get people to slow down and enjoy a musical moment, but this man's immense talent draws plenty of attention, with some even pausing to pull out their phone to capture the performance on video.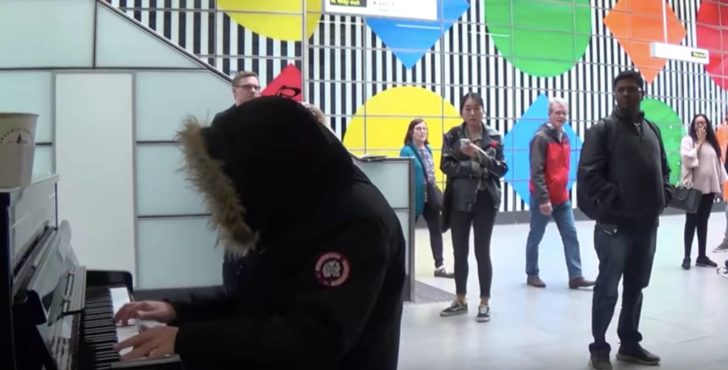 It's no wonder that he's so talented – this is Brendan Kavanagh, also known as Dr. K, who films his piano playing at various locations while wearing different outfits. He's been spotted dressed as a police officer, a pilot, a surgeon, and a construction worker. Dr. K is a London native with a Ph.D. in English Literature. His musical career has involved playing piano with numerous bands, but now he enjoys showing up for surprise performances which he films – you can check them out on YouTube.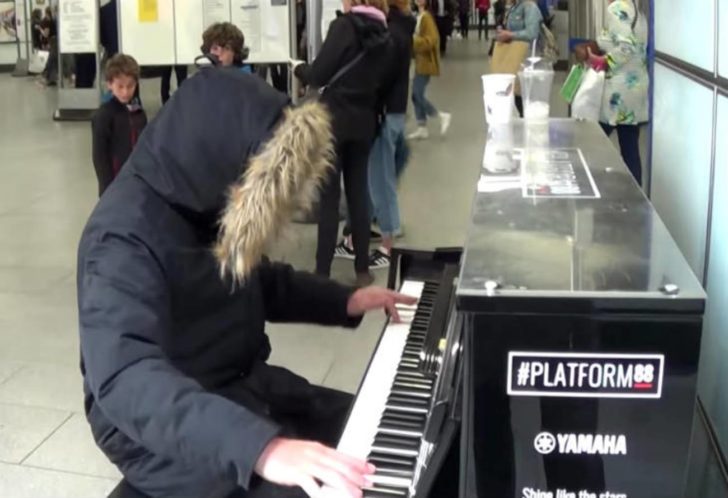 In this video, Dr. K plays on a piano that is a part of Yamaha and Transport for London's #Platform88 initiative, where pianos are installed in various tube stations across London for the public to play.
The Yamaha website explains: "For the next two years, our Platform88 pianos will tour the tube network to give travelers the chance to perform. Which star will launch our next piano and when…?"
Among the many comments left on the YouTube video were those who marveled at the man's talent: "Dude can play," "He killed it," and "That was wicked good."
Another commenter pointed out that more people should have gathered for this impressive performance: "What is wrong with these crowds? They just walked by and gave him a wary glance. This Maestro don't deserved just a glance. People should be stopping and gathering around him and listening to him play his masterpiece and they should be dropping coins in that plastic drinking cup on top of his piano. But people don't care. And, those two kids? They probably think that this man is a beggar. And who gave that applause after the last note? Was that the camera man?"
Another person agreed, sharing: "I prefer hip hop music and rock / nu metal. I would have stopped as even this would have turned my head. If you're in that much of a rush to not be able to spare 80-90 seconds then you're probably in a rush to jump in your grave as well. Admire the little things as well. Enough said."